Welcome to The Cheshire Motor Show, Supporting Local, National and International Charities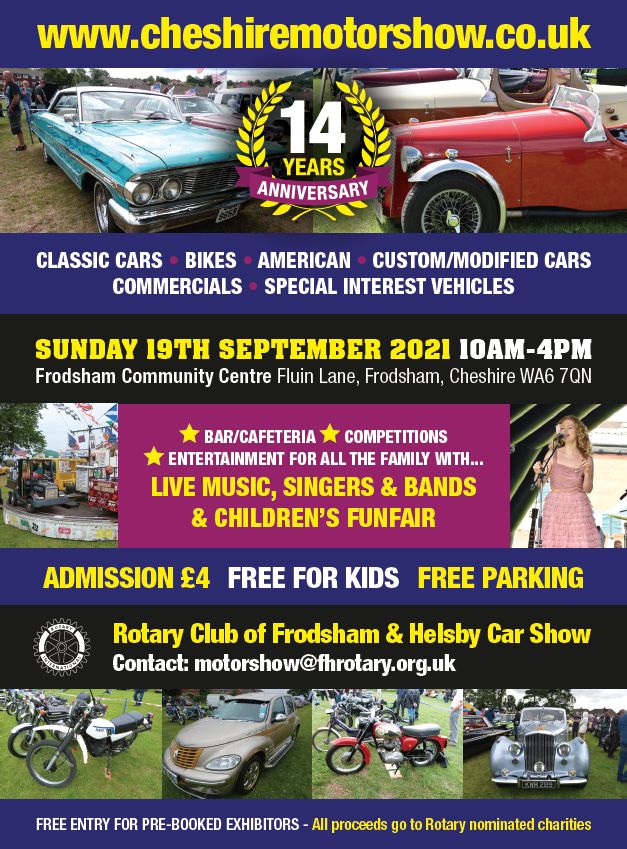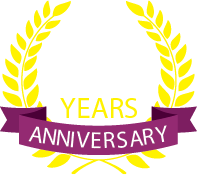 Organised by Rotary in Frodsham and Helsby, the 14th Show will be held on Sunday 19th September 2021 10am - 4pm at Frodsham Community Centre.

(Covid 19 Government Guidelines permitting)
IN ACCORDANCE WITH THE GOVERNMENT GUILDLINES ANNOUCED ON MONDAY 6TH JUNE THE CHESHIRE CHARITY MOTOR SHOW HAS BEEN POSTPONED UNTIL THE 19TH SEPTEMBER (PLEASE SEE DETAILS BELOW)
The Cheshire Motor Show raised over £7,000 for charity in 2019
Frodsham Community Centre (click for directions). Registration for both exhibitors and trade exhibitors is now open. Rotary would like to thank our major sponsors from 2019. With their help, we raised this incredible amount of money for charity in just one day! Major sponsors included Best Western Forest Hills Hotel, Cheshire Glamping and @theBarbers, plus the many Frodsham and Helsby businesses that took an advert in the show programme, see details below. We would also like to thank the exhibitors, entertainers, trade stands, and Inner Wheel.

Entrance Fee
Adults £4
Accompanied Children 13 & under free
Open from 10.00 a.m. - 4.00 p.m.

What to Expect
A short video of a previous show can be seen on this link http://www.dailymotion.com/video/x5vf6dn
Plans are in hand to expand the show even further for the 14th anniversary year, with all the usual activities supplemented by a number of new attractions including even more live music.

New for 2021
Win a new Toyota Aygo family car for just £1 on our Roll-A-Dice table
Sponsored by Oakmere Motor Group - www.oakmere.toyota.co.uk
All members of the family are welcome to try their luck and every pound is donated to charity. Go on give it a go, it's great fun!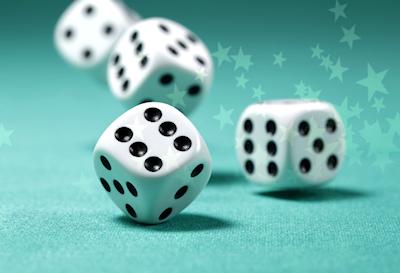 In the main hall, as always, we will be featuring the ever popular giant Tombola, which has dozens of excellent prizes. Entertainment will be live, all performing on an outdoor stage. Many Community and Trade Stalls will be on the two huge fields used for the show. There will be a Charity BBQ serving Burgers, Bacon, Sausages Hot Dogs and soft drinks. Tea, Coffee and Cakes will be served in the main hall by the ladies of the Frodsham & Helsby Inner Wheel. All Produce is locally sourced from businesses in the town, such as H E Coward, the butcher, who supplies the burgers and sausages.
Rotary in Frodsham and Helsby use proceeds from the event to help local, national and international charities, activities, and appeals from groups and individuals who are considered in need of support.
Contact: motorshow@fhrotary.org.uk or request a callback
Exhibitors
SORRY, BUT DUE TO AN OVERWHELMING DEMAND FROM EXHIBITORS THIS YEAR, VEHICLE REGISTRATIONS ARE NOW CLOSED FOR THE 2021 SHOW.
N.B THERE WILL BE NO REGISTRATIONS FOR EXHIBITORS ON THE DAY (AND NO EXCEPTIONS)
We have now opened a reserve list, if you wish to be added to it, go to the top of this page print off the registration form, fill it in and email to the address supplied.
Exhibitors and their vehicle who have pre-register for the 18th of July date will be contacted by email and given priority to attend in September. Those who can't make the show on the 19th September will simply make their space available to one of many on the reserve list. Exhibitors will not be charged an entrance fee (additional adult passengers £2) If, having pre-registered, you can no longer attend (for whatever reason) please email us or give us a call to let us know so we can take your name(s) off the registration list and release the space(s) for someone else.
Exhibitors will be emailed an exhibitor registration confirmation which will include your registration number, guidance notes on the competition, details of the judging criteria and instructions for arrival at the event.
Overnight camping for exhibitors, traders and spectators is available locally at Lady Heyes Holiday Park, Lady Heyes can accommodate caravans, motor homes and tents. They also have some fantastic glamping pods for hire. Details can be obtained from www.ladyheyespark.com
Any exhibitor queries should be e-mailed to ms-ereg@fhrotary.org.uk

Trade Stands
Trade Stands must register in advance of the event - unregistered trade stands arriving on the day will not be allowed to enter the show.
Registration forms are available on this web site - see applications tab. Completed forms should be posted or emailed to us - details on the form.
Trade stand prices vary, depending on size, all enquiries should be emailed to ms-treg@fhrotary.org.uk (N.B.) Concessions are available for registered charities.

Advertising
The Cheshire Motor Show A5 programme is given to all the exhibitors and members of the general public who visit the show and is an excellent affordable source for advertising your business, services or motor club.
Full page £60 Half page £30
Contact us via our general enquiry email below.

General Enquiries or Queries
Any general enquiries or queries about the event should be directed to motorshow@fhrotary.org.uk
For details and latest information about all our Rotary events, Click here to visit our Facebook page!